Nathan Herritt, owner-manager & Laura Herritt, owner-sales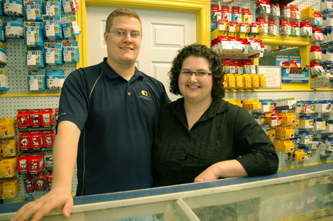 In the summer of '05, Nathan Herritt joined Intelligent Choice Computers. He was glad to be home. By early fall of '07, he was ICC's co-owner.
"I'd gone away for five years," he says. "I was working in Halifax. As soon as I found out my wife Laura was pregnant, I looked for work down here. Lunenburg County is a good place to raise kids."
It was a good move for ICC as well. Although most in the field chose one specialty, Nathan has two computer diplomas - as an information systems administrator and a business application specialist.
In Halifax, he built up to 30 computers a day. "All day pumping out computers," he says with a ready smile. "I like ripping the guts out of them. I like being able to use them too. I'm not going to lie to ya, they do get on your nerves at times."
An easy guy to trust, Nathan is a proven salesman. "I won't argue with someone," he says. "But I won't lead them astray. We're truthful. We tell you the best way to do something instead of wasting your money. We do it right the first time.
In 2006, Microsoft Canada invited Nathan to be on their 20-or-so-member Advisory Panel - as the only Atlantic Canada representative. They get together for a lengthy conference call every three or so weeks. "We discuss critical microsoft-related issues," he says. "It's interesting - keeps me ahead of the game. "
Lately, the self-confessed sports junky doesn't have much time for athletics, but it's all for a good cause. "I'm huge into my family," says the father of two. There's that smile again.
Laura Herritt
As an ICC owner, Laura works full time in sales. "I enjoy learning new techie stuff daily," she says, smiling. "I'm always bugging the techs with something. I enjoy going above and beyond for the customers - making sure all is well."
Evan Newton
Senior Service Technician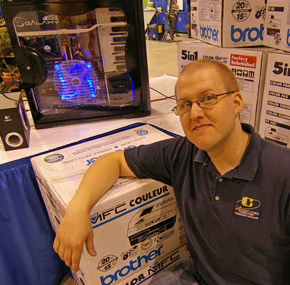 Evan Newton gets a kick out of trouble-shooting his way to a diagnosis of, and solution to, a problem. "With a computer," he notes, "it can be anything wrong, the same thing can have 50 different causes." Thinking his way to the fix - that's the name of Evan's game.
When he graduated from high school at Park View Education Centre, he had already known for years he was heading for a career in computers. "My parents bought their first computer, a machine running Windows 3.5, I was six years old. I had to fix it for them often - re-installing software from floppies.
"When I got older, technology evolved - it became more interesting. I do it every day at home - I might as well get paid to do it."
Since his Park View years, Evan's been one busy guy. He spent a year at CompuCollege then graduated as an information systems administrator. In 2005, he was accredited as an A+ Certified Computer Technician. Next came certification by Microsoft for Windows 2000 Server and Novell for network security.
In his spare time, Evan enjoys computer games including Flat Out 2, SWAT 4 and Crimson Skies.